Thinking outside the box (or, in this case, the can)…
Have you ever sat down to write an email to someone you haven't talked to in a long time? The intention is there, the coffee is poured next to you, but your fingers sort of hover over the keys. You may know roughly what you want to accomplish and convey, but getting there (and getting started!) is the tough part.
The same can really be true for adding fun, customized color to your home's interior. You know you want something cool, trendy, and decidedly not boring, but how do you get there?
Here are a few colorful ideas to keep in mind.
Paint a Wall with Stripes
Now, we aren't talking about circus tent stripes. We mean carefully considered, well-planned stripes that create a specific effect.
Whether bright and vibrant for a kid's room (or yours, we won't judge), or classy and subdued shadow striping, stripes introduce a unique and attractive visual element. When painted vertically, they also push the ceiling upward, allowing for a more spacious feel overall.
If your colors of choice are of the brighter variety, we suggest localizing them to an accent wall so that it doesn't overwhelm the room.
Stenciling Your Walls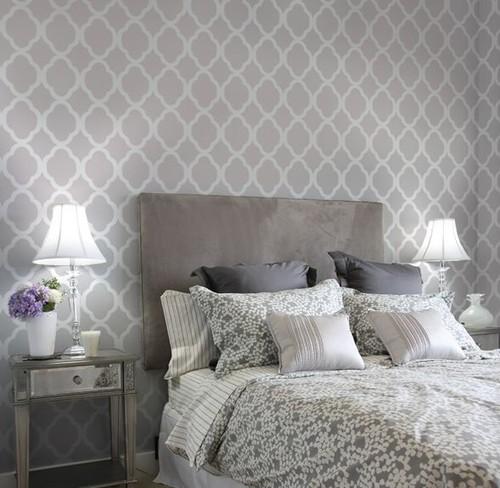 If you like the patterned look but can't quite bring yourself to plunge into the world of wallpaper, stenciling is an attractive alternative.
Have You Considered Faux or Decorative Painting?
If your project is in the hands of a true professional painter, faux and decorative finish techniques can bring breathtaking style to your home. For example, here are the specific finishes we offer here at Sundeleaf Painting:
Color Wash
Marbelizing
Venetian Plaster
Terra Fresco
Strie Painting
Distressing & Crackle Painting
Gold Leaf, Bronzing & Metallic Finishes
Woodgraining
Rag-Rolling, Sponge Painting and more!
Two-Tone Wall Paint
Painting upper and lower cabinetry different colors is stylish in the kitchen, and this look carries over into other spaces in your home as well. Especially if you have a natural break (like a chair rail or other molding), painting the upper and lower sections complementary colors can be just beautiful.
Have Fun with Accent Walls and Colors
With neutral interior paint dominating the scene, a door is left wide open for vibrant accent colors. Take advantage of this, satisfying your craving with either accent walls or color blocking (painting specific sections of the wall with something bright and different).
Talk to a Color Color Consultant About Your Interior Painting Goals
If you missed our article dedicated to the topic of working with a color consultant, now would be the perfect time to click over and check it out.
Your Sundeleaf Painting team is here to help – be sure to contact us with any questions you might have.