The world of fashion and design is buzzing with talk about the colors that have been selected as "Colors of the Year" for 2018. If you are looking for paint color ideas for your home or business, these colors are a fantastic place to start. All of them are vibrant and bold, and one of them may be exactly the hue you need to liven up your living room or update your office.
Benjamin Moore's Color of the Year: Caliente
Even if you don't know Spanish, you might guess that this color name means "hot!" Rich, bold, energetic, and unique, this color will definitely grab attention. It could be used as an accent wall in just about any place, from a living room to a hotel lobby to a restaurant. If it is offset by other contrasting colors, it can also be the main wall color for a room.
Because it has an earthiness underneath that bright surface, Caliente pairs well with other earthy shades of tan, orange and yellow. It would also look great with a well-chosen green. Of course, bright white is a fantastic trim or contrast color for this. Finally, Caliente also makes a surprisingly attractive pair with our next color, Oceanside.
Sherwin Williams' Color of the Year: Oceanside
Evocative and intense, this shade of blue is definitely inspiring! Though it is a cool color, it has a surprising warmth and energy to it. In the home, it would be a beautiful option in a bedroom or bathroom, or in a living area. In a commercial setting, Oceanside could make a pleasant splash in a bank or a corporate office, or in the waiting room of a medical office.
In most rooms, the best pair for this hue would be a light neutral, such as a sandy yellow or tan, a blue-gray, or of course, white. If you don't want to overwhelm your space, use Oceanside as an accent wall color. Wherever you use it, it will make a pleasant impact!
Pantone's Color of the Year: Ultra Violet
If you're the scientific type, don't take this color name literally. While ultraviolet light may be invisible, Pantone's Ultra Violet is definitely a shade you can see! Described as "contemplative" and "mysterious," this paint color sets a wonderful mood. As a wall color, it could work nicely in a bedroom or a powder room. In a commercial setting, would be a great color to add with accents, such as artwork, flowers, lamps or other accent decorations.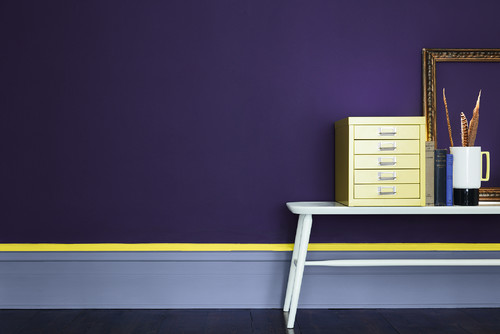 For the bolder homeowners, there are some great shades of yellow, red, and orange that can make lively companions to Ultra Violet. For a more toned down approach, it also pairs nicely with a light aloe or a soft blue.
Painting Services in the Portland Area
If you are considering how new paint could bring new life to your home or business, Sundeleaf Painting is a reputable, quality painting contractor. We offer professional color consultations, as well as interior and exterior painting, wood refinishing, decorative finishes, and much more!