Many fine homes here in the Portland area have decorative ceilings that add layers of visual interest and stateliness. Often, these ceilings and the carpentry features that define them are simply painted white. While this is a beautiful, eye-catching way to paint the ceiling, there are other options available to you. These color ideas can provide even more individuality and style to your high-end home.
Tray ceilings are those that have a raised-up portion. Usually, the raised portion follows the perimeter of the room, but it can also be a circle or oval. It creates a frame effect, with added height and dimension that make a room feel taller and more classy.
Photo by RKI Interior Design
Coffered ceilings are formed by a series of beams crisscrossing the ceiling at regular intervals. More visually complex than a tray ceiling, the coffered ceiling offers a myriad of options with its beams, moldings, and ceiling spaces.
Photo by Dalia Kitchen Design
Painting Ideas for Tray Ceilings
There are a few basic options for how to paint with a tray ceiling, but with endless color choices, there is no limit to what you can design.
One option is to use white on the lower horizontal surface (the lower part of the ceiling) and the inner vertical surface (parallel to the walls), and then paint a color on the upper part of the tray. Alternatively, you could use white on the upper and lower horizontal parts, and use color on the inner vertical surfaces.
In terms of color selection, you can use the same color as your walls, or a variant of the same color that is lighter or darker. Alternatively, you could use a contrasting color that matches well. Finally, many homeowners are making an elegant statement with dark gray or black in their tray ceilings.
Photo by Lowery Design Group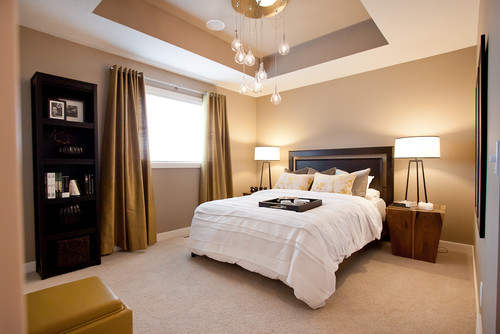 Photo by Natalie Fuglestveit Interior Design
Photo by Broderick Builders
Photo by Jill Shevlin Design
Painting Ideas for Coffered Ceilings
The basic options for painting coffered ceilings include painting the ceiling portions between the beams, and painting the beams themselves. The best effect is achieved with strong contrast, either by doing the beams white and the ceiling a bold color, or by painting the beams a strong color and the ceiling portions neutral.
More intricate ideas could involve painting different layers or contours of the moldings in different colors, which would create a detailed, decorative look reminiscent of high Victorian style.
Photo by Two Column Media
Photo by Freestyle Interiors
Photo by McIntosh Poris Associates
Photo by Atmosphere Interior Design Inc.
Photo by Nicholaeff Architecture + Design
High-end Painting for Fine Portland Homes
Sundeleaf Painting has been painting fine homes in the Portland area for three generations. If you are looking at interior painting possibilities, we would love to serve you. We have decades of experience painting all kinds of elegant homes, and we can help you narrow down the possibilities and make a plan. When you hire Sundeleaf Painting, you can count on the utmost in customer service, and unbeatable results.
Looking for a Professional House Painting Company in Portland, Oregon? Sundeleaf Painting is here to bring your home to life. Contact Us today.