A scratch or gouge, though definitely inconvenient, at least calls for a clear solution. A minor patch, a bit of sanding, a little primer, a well-blended cover of your topcoat color, and you're on your way. Like it never even happened.
Marks from a pen are a little different and more uniquely problematic. But, if you have kids, you know that random graffiti creativity is almost inevitable. Even if you don't have kids, things happen!
So, how can you get your flawless wall back?
Simple Ways to Get Ink Off Your Wall
No matter which method you try, just remember one thing: it's essential to be gentle on your walls. Even durable, well-applied paint can fall victim to relentless scrubbing and powerful chemicals.
Toothpaste – Yes, you read that right. A white, non-gel toothpaste can effectively draw ink out of your paint. Apply lightly, let it sit for 10 minutes or so, and then wipe it clean.
Rubbing Alcohol – Rub the alcohol over the blemish with a cotton swab, then wash it clean with a sponge dipped in warm, soapy water.
Mr. Clean Magic Eraser – This handy little tool can work wonders for a huge variety of blemishes, including ink stains and scuffs.
Baby Wipes – Talk about a simple fix! Baby wipes may be gentle, but they're tough on ink.
Can You Paint Over Ink Stains?
Maybe just touching up your walls sounds better to you, or giving the ballpoint pen stains a pass with a brush. Wouldn't that do the trick in no time at all?
You can, but it will need to be primed first. Like any stain, ink will creep through a topcoat over time, making a the application of a stain-blocking primer an essential first step.
Maybe It's Time for Chalkboard Paint!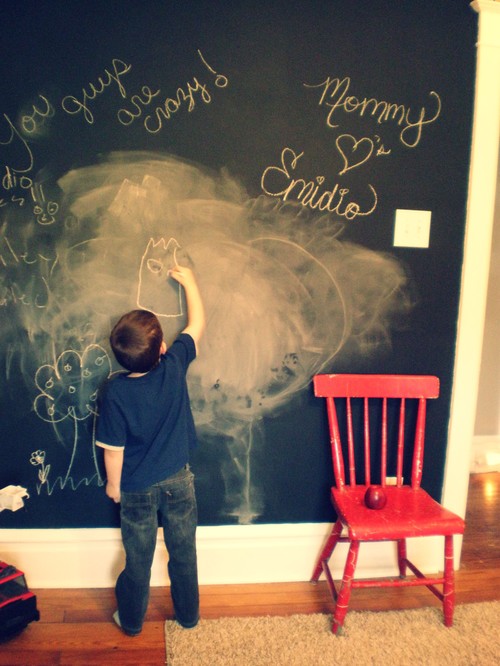 If your creative kiddos need a designated spot for artistic expression, consider painting a section of wall (perhaps in their bedroom) with chalkboard paint. You'll win a huge number of parenting points, and will also help keep their creativity contained.
Good luck with your project!