Proactive care is always the way to go!
Like most things in life, it pays to plan ahead and be proactive when it comes to your ongoing home maintenance. Spring especially is the perfect season for thoroughly checking your property, giving you the opportunity to discover and correct smaller points of damage that will only grow with time (sometimes very quickly!).
Every home is different, but here are a few standard areas you'll never regret paying attention to.
What Should Your Exterior Home Maintenance Include?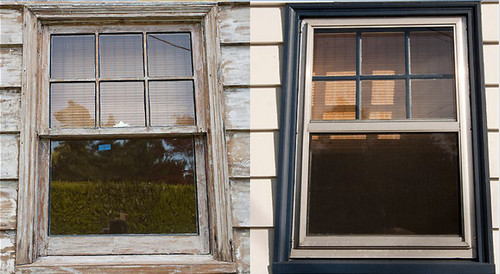 Your Roof – Hiring a pro for a seasonal inspection isn't a bad idea, but you can also cover a lot of ground with a set of binoculars. We don't recommend climbing around on the roof's surface; not only is it dangerous for you, but it also can damage your shingles. Check for lifting, algae buildup, shedding granules, and, of course, missing, torn, or damaged shingles. These signs of trouble shouldn't be ignored!
Dry Rot – This is an insidious issue, starting small and quickly growing to a point where it requires larger-scale attention. The key is to inspect your home's outdoor wood surfaces, watching for the tell-tale symptoms of wood decay. Investing in immediate repair/replacement stops the problem in its tracks.
Caulk – Check around your windows in particular to see how your caulk is holding up. If it's dry, brittle, and breaking down, replacement is essential. And, you'll be glad you did! Not only does it seal out moisture, but it also enhances the overall efficiency of your home.
Pressure Washing – There are few better ways to refresh and protect your property's exterior surfaces than by investing in professional pressure washing. Whether you're cleaning your siding, pool, patio, deck, or walkway, a skilled technician can safely wash away damaging and unsightly contaminants like mold, mildew, dirt, and more.
And, Don't Forget to Check Your Exterior Paint This Spring!
Far beyond just adding a pleasant style, your exterior paint is a first line of defense against the elements. Too many homeowners assume that they need to wait until a complete breakdown before hiring a local painter, but nothing could be further from the truth. In fact, that's a little like saying you'd rather wait until your car's engine seizes before changing the oil.
Routine exterior painting and maintenance will keep your property looking its very best, and also maximize the level of protection and value that your paint offers. What's not to love about that?
Are You Looking for a House Painter in Portland?
If so, we're here to help! Contact our team at Sundeleaf Painting today, and let's take care of your property together.